The history of Indian traditional jewelry is as old as the history of this country. Since the beginning, women loved to beautify themselves with jewelry pieces. One such beautiful piece of traditional jewelry is what we call as 'Temple Jewelry'. Silver temple jewelry or gold temple jewelry has been a part of the ancient Indian civilization for a long time.
In India, jewelry not only has aesthetic and traditional value, but it is a source of security during financial crises. The amount of jewelry a woman holds directly signifies her status. The uniqueness of Indian jewelry lies in its intricate designs and dexterity of workmen involved in jewelry making.
What is Temple Jewelry?
According to popular beliefs, temple jewelry originated in the 9th century, during the reign of the Chola Dynasty. People used it to decorate idols and goddesses, at that time. The Chola kings gave immense importance to cultural development in the region. The design we see in the temple jewelry today is somewhere inspired by the heavily ornamented pillars and sculpted walls of various south Indian temples.
Most of the temple jewelry is made with Gold and Silver. Silver temple jewelry is inexpensive as compared to its gold variant. The jewelry is embellished with precious gems and pearls for a classic appearance.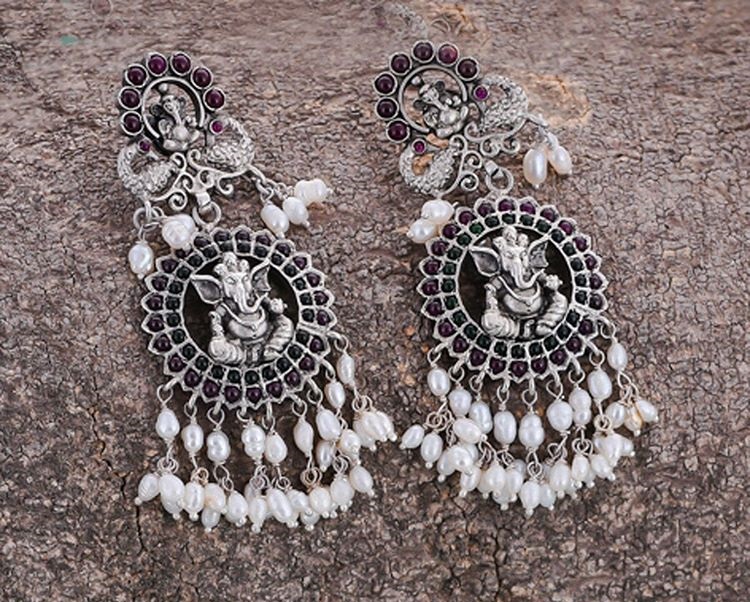 In the modern era, we also see polki and kundan work temple jewelry. They are preferred in north India. You can see various designs and motifs like peacocks, swans, lotus flower, royal figures, and religious icons in the temple jewelry worn in North India.
Types of Temple Jewelry
Temple jewelry gives a regal look to the one who wears it. South Indian brides are in love with this beautiful piece of artwork. Popular demand has made them available in various forms depending upon the users requirements. While some want to go with simple designs others prefer heavy pieces.
Temple jewelry can be classified as:
Function Jewelry: Women wear them in traditional functions like temple pilgrimages, baby showers, weddings, etc.
Occasional Jewelry: It is worn by traditional Indian dancers and the jewelry includes armlets, anklets, waist belts, etc.
Some of the most demanded and loved designs are related to lines, birds, gods, royal figures, and goddess Laxmi images.
You can see temple jewelry design in small nose rings as well as chunky necklaces, armbands, bracelets, etc.
Some tips to follow before wearing temple jewelry
If you plan to wear a silver temple necklace in a family wedding, pick a saree without heavy border or embroidery. The heavy necklace will make an effortless style statement. As a rule of thumb, they look best when worn with understated outfits because the pieces itself are heavy.
For a semi-traditional outing, you can wear light temple earrings and a small pendant with your outfit.
You can wear Jhumka style temple earrings with your traditional kurtas.
Traditional necklaces also go well with Indo-western outfit such as a gown.
Silver temple necklaces and bracelets look elegant and can be worn during formal meetup or brunches. This style of jewelry looks very regal and gives you enough room to experiment.
When you plan to wear a temple jewelry, ensure to make a balance between the outfit and the jewelry. If done wrong, you can look clumsy and overly dressed.